We have been in on an up-climb over the recent years with fairly stable growth in our economy and construction that cannot keep up with the demand in housing. Thus resulting in lower inventory levels for buyers to choose.
We just came back from a quick economic update from the Commercial Association of Brokers and the Appraisal Institute. From time to time we like to hear market updates from a bigger economic picture. Sara Johnson (IHS Markit, Senior Research Director, Global Economics) was the keynote and provided many of the updates we gathered today. Part of the need to hear an update is because we have seen a small shift in the appreciation values of homes. For instance, Cambridge condos are appreciating at 6% in 2017 thus far with 3 months left to the year, compared to last 4 years that showed 10-11% appreciation rates. We do see a lower amount of listings this year however we are 3 months short of preceding years to date and expect the numbers to increase.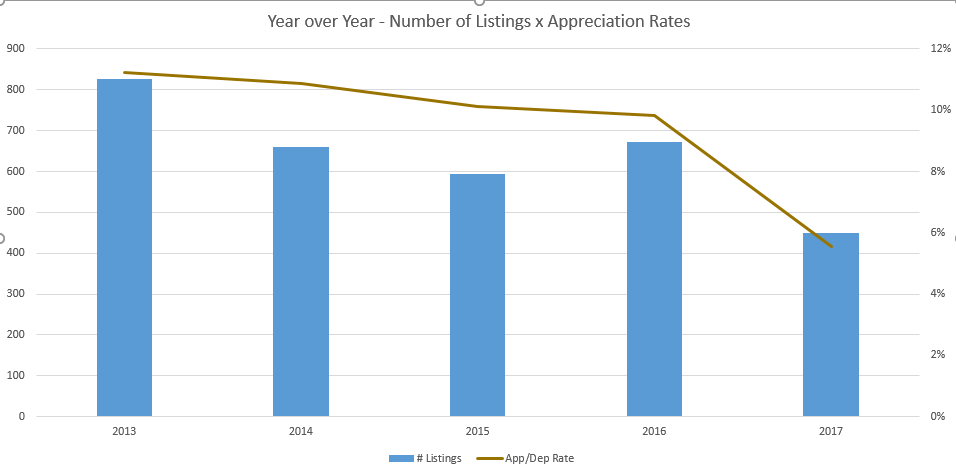 The questions is WHY? This is not an easy question to address but we have learned about various factors at play. I've had multiple colleagues, friends and contacts state that China has put more restrictions on funds exporting the country which puts a drag on cash purchases. We also know that there has been a boom in construction increasing Cambridge's ability to house an additional 3-4% in the city's population according to our updates in the meeting today. Areas such as Alewife and Kendall Square have grown in new construction tremendously. In addition to planned interest rate hikes over the next few years, rents are starting to simmer down as the inventory loosens. This sets the stage to allow the housing market to calm down a bit.
This leads to the next update we heard, that despite historical patterns showing a major housing market change every 5-6 years does not mean that gloom is on the horizon. Actually the global markets are in a fairly stable place, consumer spending continues to be healthy despite the recent disasters with hurricanes Irma and Harvey and demand continues for properties.
So what does this all mean anyway?
Is it still a good time to sell? The simple answer is yes. There is still buyer demand and although we are not seeing the steep appreciation values of the past, we are still seeing healthy appreciation values.
Is it a good time to buy? With interest rates on the rise and the indications that home values will continue to rise at a healthy rate, it is not a bad investment. If demand loosens as more inventory comes to market, it would help keep down competition as you go on your home search.
All in all, the housing market is doing well. If you have any questions about your specific town, neighborhood or home value, we are always happy to provide you analysis, afterall we love what we do here with The Sylvia Real Estate Team.
*All data was pulled from MLS. The updates were summarized from our speakers Sara Johnson, Bill McCall, Mark Hickey, Ben Sayles and Porter Terry who graciously particpated in the panel for "What's Next 2018: Economic, Capital, And Investment Market Insights".